Every year, the Scottish Norwegian society in Glasgow arranges a Norwegian "Julebasar" (Christmas fayre). The society sells Norwegian snacks and food such as Norwegian cheese, melkesjokolade (milk chocolate) and, of course, brunost. You can also win a "Kransekake", eat Norwegian waffles or buy Norwegian books. I participated this year, with a special "Brunost stand", telling new and experienced brunost eaters all about this cheese and everything it can be used for.
My stand was crowded from the moment the Julebasar opened until it closed two hours later. Some people had never heard of Norway's national cheese before and were happy just to try one of the small cubes of brunost. However, most of the people who stopped by my stand were very familiar with brunost. Although, for almost all of them, using brunost in cakes was a new idea.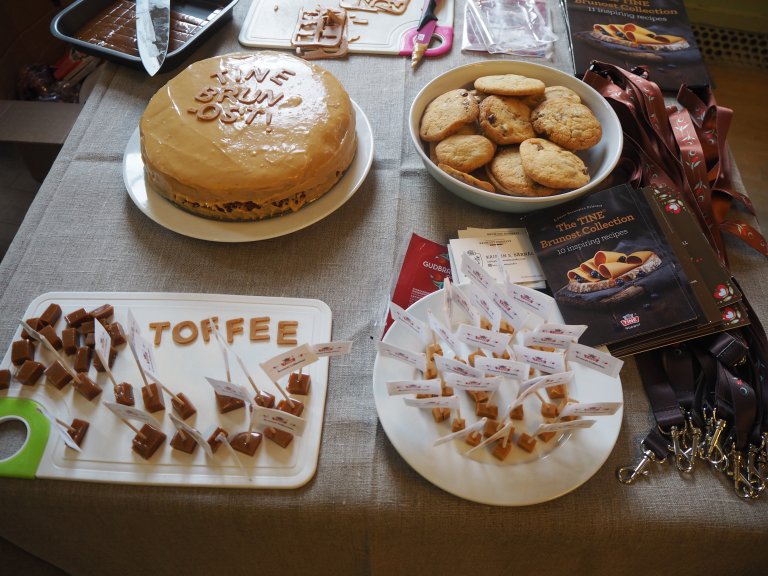 In addition to the brunost cubes, I also had carrot cake with brunost icing, brunost-flavoured toffee and cookies with chunks of brunost. All my decorations were made from letters cut out of brunost. I also had Tine Brunost keychains, which were a huge hit with the kids, and brunost recipes for those who wanted to have a go at home.
The goodies I brought seemed to be a hit with those who tried them and I received several very lovely compliments. By the end of the day, all of my homemade treats were gone. I had a great time and I hope I managed to inspire some of the people who came by to try something new with brunost for themselves!