Brunost Burger with Lingonberry-Bacon Jam
Brunost isn't a cheese that is typically associated with burgers, but it has a salty sweetness that just works so well on a juicy grilled summer burger. Make this for your friends and family and watch their skepticism turn into excitement - Brunost now has another use in the kitchen! Recipe by Nevada Berg (northwildkitchen.com).
Ingredients
For the Sautéed Onions:

2

tbsp

neutral oil

1

large yellow onion, sliced into thin rings

1/4

tsp

salt
For the Lingonberry-Bacon Jam:

150

g

bacon lardons

1/2

small red onion, finely chopped

3

tbsp

lingonberry jam
For the Burger:

680

g

good-quality ground beef

Salt and pepper, to season

8-12

slices of TINE Gudbrandsdalen

4

burger buns

4

tbsp

mayonnaise

2

handfuls of baby spinach leaves
Here is how you do it
For the sautéed onions, in a large, heavy pan, heat the oil over medium-high heat. Add the onion slices, lower to medium heat, season with salt, and sauté for about 10 minutes or until golden brown and softened. Remove to a bowl, cover to keep warm, and set aside.
Using the same pan, add in a dash more of oil and heat over medium-high heat. Add the bacon lardons and red onions and cook for 8 to 10 minutes, or until the bacon is crispy and the red onions are softened. Spoon in the lingonberry jam and cook until it all comes together, about 1 to 2 minutes. Remove from the heat.
For the burgers, form the meat into 4 equal-sized patties, pressing your thumb into the middle of each to make a little indention. Season the patties on both sides with plenty of salt and pepper.
Grill the patties on an oiled grill or pan-fry in a little hot oil for about 3 to 4 minutes per side, flipping once until your ideal doneness. Place 2 to 3 slices of Brunost on each patty during the last minute of cooking and cover with the lid until the cheese melts. While the patties are cooking, you can toast the buns on the grill or in a separate pan.
Arrange a good dollop of mayonnaise on both sides of each bun. Top the bottoms with some baby spinach leaves then the Brunost-covered burgers, followed by the sautéed onions and lingonberry-bacon jam. Finish with the bun tops and serve immediately.
Nevada's tip: Be sure to include all the accompaniments when making this burger and if you can't access lingonberry jam, you can swap it for cranberry jam.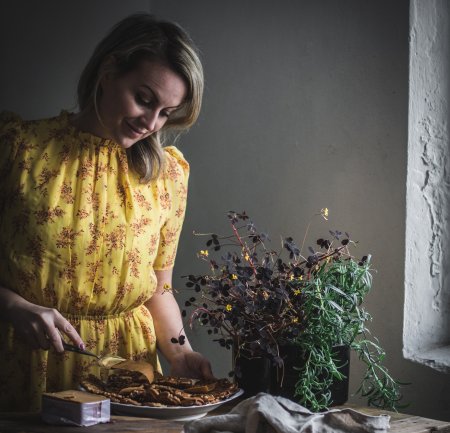 Meet our Brunost brand ambassador for 2020, Nevada Berg
---
We have teamed up with Nevada Berg of North Wild Kitchen. This means that each month throughout the year, Nevada will share a recipe featuring Brunost - everything from sweet to savory dishes.
Get to know Nevada