Brunost Caramel Rice Krispies Treats
The ever-loved squares of Rice Krispies treats were a big part of our brand ambassador Nevada Berg's childhood. Here, Nevada has created a variation of these beloved classic squares with a Norwegian twist of brown cheese. Slices of Brunost are mixed together with marshmallows and Rice Krispies, providing a subtle tangy creaminess that pairs perfectly with the sweetness. On top, a drizzle of brown cheese caramel adds that extra touch, creating a wonderful delicious treat that only uses a few ingredients and can be put together in a couple of minutes. Recipe by Nevada Berg of northwildkitchen.com.
Here is how you do it
This recipe makes 9 large squares or 36 individual bites.
Line a 23 x 23 cm baking pan with parchment paper and lightly grease with butter or non-stick spray. *For thinner squares, use a 23 x 33 cm baking pan.
In a large, heavy-bottomed pan, over medium heat, melt the butter, marshmallows and TINE Gudbrandsdalen brown cheese, stirring often, for 10 minutes or until the mixture has melted and come together. Remove from the heat, fold in the cereal, and stir to combine with a wooden spoon or spatula. Pour the mixture into the prepared pan. Wet your fingers and gently press down on the mixture to evenly spread it across the pan. It's important not to press down too hard, otherwise they will become very dense. Let the treats set at room temperature for about 1 hour.
While the treats are setting, prepare the Brunost caramel. In a small saucepan, bring the Brunost, heavy cream and sugar to a simmer over medium-high heat. Cook until the mixture is thoroughly combined, whisking frequently, and has thickened to a caramel consistency (somewhat thick, but pourable), about 8 minutes. Drizzle the caramel on top of the treats.
To serve, lift the parchment out of the pan, and cut into even squares.
To store the treats, cover and leave at room temperature for a couple of days. You can also freeze them by wrapping them individually in wax paper and storing in the freezer for up to 2 months, letting them thaw before serving.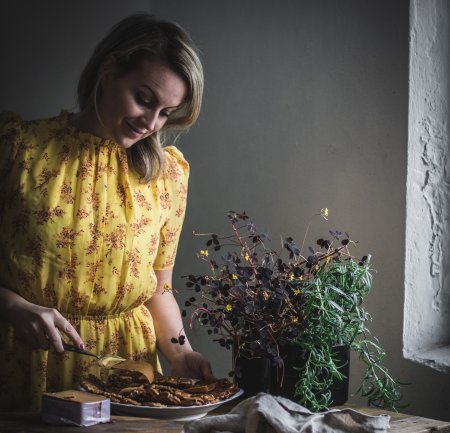 Meet our Brunost brand ambassador, Nevada Berg
---
We have teamed up with Nevada Berg of North Wild Kitchen for 2020 and 2021, which means that Nevada will share lots of delicious recipe featuring Brunost with us - everything from sweet to savory dishes.
Get to know Nevada