Summer Berry Salad with Brunost Vinaigrette
Did you know that Brunost pairs perfectly with berries? Our brand ambassador, Nevada, has created this gorgeous summer salad topped with a delicious Brunost vinaigrette. The base vinaigrette sweetened with honey meets melted Brunost to form a tangy and sweet golden dressing that hugs every part of the salad. What you get is a delightful salad celebrating the Norwegian summer that will leave you wanting more. So far outside the normal uses of Brunost, and yet it works brilliantly! Recipe by Nevada Berg of northwildkitchen.com.
Ingredients
For the Brunost vinaigrette:

50

g

Gudbrandsdalen

1

tbsp

water

1

tbsp

honey

120

ml

extra virgin olive oil

2

tbsp

white wine vinegar

Salt
For the salad:

150

g

baby spinach and greens

200

g

fresh blueberries

150

g

fresh raspberries

150

g

quartered fresh strawberries

25

g

almond slices, toasted
Here is how you do it
In a small saucepan, heat the Brunost, water, and honey over low heat, whisking until melted and combined. Set aside to cool slightly.
In a small bowl, whisk together the oil and vinegar. Pour this into the Brunost mixture, whisking to combine until emulsified. Season to taste with a pinch of salt.
Toss the greens with half of the dressing and place on a large serving platter. Scatter the berries and toasted almonds on top. Drizzle the remaining dressing over the top and serve immediately.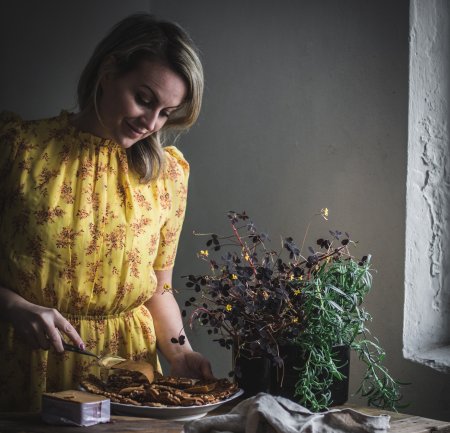 Meet our Brunost brand ambassador, Nevada Berg
---
We have teamed up with Nevada Berg of North Wild Kitchen for 2020 and 2021, which means that Nevada will share lots of delicious recipe featuring Brunost with us - everything from sweet to savory dishes.
Get to know Nevada