Brunost Toasts with Creamy Reindeer & Mushrooms
This dish is a twist on the classic 'finnbiff', a reindeer stew with mushrooms and a few slices of brown cheese thrown in the sauce. Rather than serving it as a stew, it's thickened and served on top of toasted bread enveloped by a generous amount of melted Brunost slices. So simple and so good!
Ingredients
Butter, softened

4

large slices of bread, such as sourdough or farmhouse

3

tbsp

butter, divided

2

shallots, diced

250

g

cremini mushrooms, sliced

300

g

frozen shaved reindeer meat

180

ml

heavy cream

5

juniper berries, crushed

Salt and pepper, to taste

TINE Gudbrandsdalen

Fresh parsley or thyme

Lingonberries (optional)
Here is how you do it
Spread a good amount of softened butter over both sides of each bread. In a large frying pan, add the bread slices and toast over medium-high heat for a few minutes, turn over, then toast the other side until golden brown on both sides. Remove and place on a baking sheet.
In large frying pan, heat 2 tablespoons butter over medium-high heat. Add the shallots and mushrooms and cook for 5 to 10 minutes or until softened. Transfer to a bowl. Add the remaining 1 tablespoon of butter to the pan. When the butter has melted, add the reindeer and cook for 5 to 8 minutes or until browned. Return the mushroom mixture back to the pan and cook 2 minutes more. Add the heavy cream and juniper berries and cook for 5 minutes or until thickened. Season to taste with salt and pepper.
Preheat a broiler.
Top each toasted bread with a layer of Gudbrandsdalen slices. Place the breads under the broiler, keeping a close watch, and heat the toasts for 1 minute or until the Brunost begins to melt and bubble. Remove from the broiler and transfer to individual plates.
Divide the reindeer mixture evenly among the Brunost toasts and garnish with fresh parsley or thyme and a few lingonberries, if desired. Serve immediately.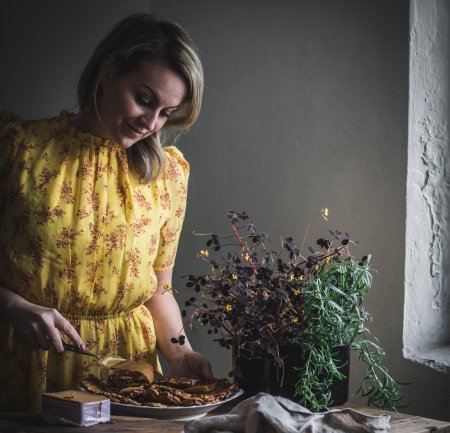 Meet our Brunost brand ambassador, Nevada Berg
---
We have teamed up with Nevada Berg of North Wild Kitchen for 2020 and 2021, which means that Nevada will share lots of delicious recipe featuring Brunost with us - everything from sweet to savory dishes.
Get to know Nevada