No-Churn Brunost and Raspberry Swirl Ice Cream
This simple and delicious no-churn ice cream recipe highlights summer raspberries and creamy Brunost enveloped in sweet cream. To add the finishing touch, serve with waffle cones dipped in a gooey Brunost sauce. It's the ideal way to wrap up the warm days of summer while keeping cool! Recipe by Nevada Berg from northwildkitchen.com.
Here is how you do it
For the raspberry compote, in a small saucepan, combine the raspberries and sugar and bring to a gentle simmer over medium heat. Stirring often, cook until the mixture has reduced some and slightly thickened, about 8 to 10 minutes. Remove from the heat and cool completely.
For the Brunost sauce, in a small saucepan, bring the Brunost, heavy cream and honey to a simmer over medium-high heat. Cook until the mixture is thoroughly combined, whisking frequently, and has thickened to a caramel sauce consistency (somewhat thick, but still a little runny), about 8 to 10 minutes. Set aside to cool. Once slightly cooled, dip the tops of each waffle cone in the Brunost sauce, place them upright in something sturdy, and leave in a cool place or the refrigerator to set. *I used an old egg carton and poked holes in it for the cones to stand in.
For the no-churn ice cream, in a large bowl, or the stand mixer, whip the heavy cream until stiff peaks form. Pour in the condensed milk and gently fold with a spatula to combine.
Using a large loaf tin, pour ½ of the whipped cream mixture inside. Dollop spoonfuls of the raspberry compote and the Brunost sauce on top. Using a knife or toothpick, gently swirl the mixture to form an even pattern. Add the remaining whipped cream mixture on top, followed by the raspberry compote and the Brunost sauce, using as much or as little of as you desire, and swirl again. Cover tightly and place in the freezer for at least 4 hours before serving.
When ready to serve, remove the ice cream from the freezer and leave out at room temperature for a couple of minutes to soften slightly. Scoop some ice cream into each of the waffle cones and serve immediately.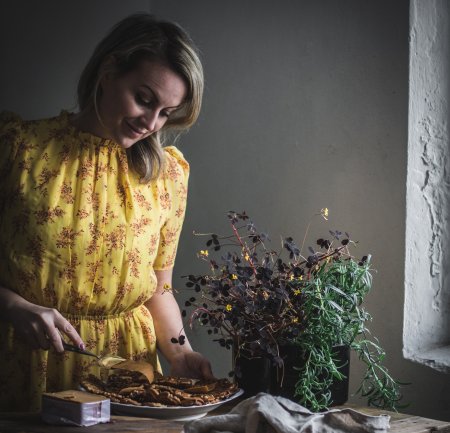 Meet our Brunost brand ambassador for 2020, Nevada Berg
---
We have teamed up with Nevada Berg of North Wild Kitchen. This means that each month throughout the year, Nevada will share a recipe featuring Brunost - everything from sweet to savory dishes.
Get to know Nevada