Brunost-Caramel Cinnamon Buns
These gooey, rich, and incredibly delicious sweet buns will make you see Brunost in a whole new light. These buns are far better shared, so gather together the people around you, grab some plates and forks, and dive on in! Recipe by our brand ambassador for 2020, Nevada Berg of northwildkitchen.com.
Ingredients
For the buns:

5

tbsp

butter

1 1/4

whole milk

3 3/4

cup

all-purpose flour

1/3

plus 1 tablespoon granulated sugar

1

oz

fresh yeast (1/3 ounce active, dry yeast)

1/2

tsp

salt
For the filling:

1/3

cup

butter, melted

2/3

cup

brown sugar

1

tbsp

ground cinnamon

2

tsp

ground cardamom
For the Brunost caramel:

1/2

cup

granulated sugar

2

tbsp

water

1/2

cup

heavy cream

3 1/2

oz

Ski Queen®, sliced or grated
Other:

Sliced almonds, for garnish

Confectioner's sugar, for serving
Here is how you do it
For the buns, in a small saucepan, melt the butter over medium heat. Add the milk and heat until lukewarm. Pour into a stand mixer fitted with the dough hook attachment. Add the flour, sugar, yeast, and salt. Knead on medium-low for 8 minutes or until soft and elastic. Transfer the dough to a lightly buttered bowl, cover with a tea towel, and let rise in a warm spot for 1 hour or until doubled in size.
For the filling, in a small bowl, combine the melted butter, sugar, cinnamon and cardamom.
On a lightly floured surface, use a rolling pin to roll out the dough into a large rectangle that measures roughly 30 x 46 cm (18 x 12 inches). Using a rubber spatula, spread the filling evenly across the dough, leaving a a ½ -inch (1 cm) margin at the top and wetting it with a little water. Tightly roll the dough upwards starting from the bottom. Pinch the seam shut and turn the dough so that it's seam side down. Use your hands to even out its shape. Using a sharp knife, cut the log into 8 equal-size buns. Place the buns in a shallow, buttered baking pan, cover with a tea towel, and let rise for 40 minutes.
Preheat the oven to 200ºC.
In a small saucepan, bring the sugar and water for the Brunost caramel to a boil over medium-high heat. Add the heavy cream and Brunost and whisk together until melted, thoroughly combined and somewhat thickened, about 3 to 5 minutes. Set aside.
Bake the buns for 10 minutes, until puffing and starting to turn golden brown. Drizzle all of the Brunost sauce over the buns, covering them. Sprinkle with sliced almonds on top, if desired. Place back in the oven and bake 10 to 12 minutes longer or until golden brown on top and cooked through. Let the rolls cool slightly before digging in. Sprinkle with powdered sugar on top and serve.
This recipe makes about 8 buns.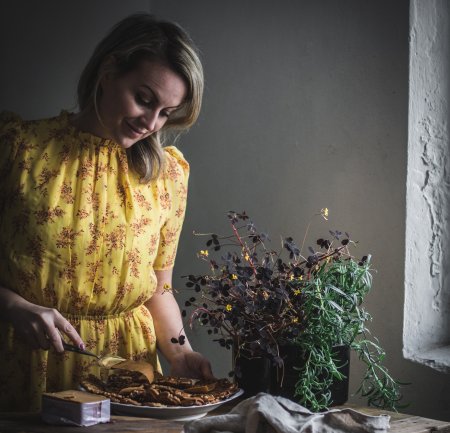 Meet our Brunost brand ambassador for 2020, Nevada Berg
---
We have teamed up with Nevada Berg of North Wild Kitchen. This means that each month throughout the year, Nevada will share a recipe featuring Brunost - everything from sweet to savory dishes.
Get to know Nevada