Homemade Brunost Marshmallows
These fluffy Brunost marshmallows are incredibly soft and guaranteed to melt in your mouth. Brunost makes the most wonderful caramel sauce - adding a touch more depth of flavor from its sweet and nutty notes. Paired with marshmallow, you get pockets of fluffy vanilla with accents of gooey caramel in every bite. Perfect for fall! Recipe by Nevada Berg from northwildkitchen.com.
Ingredients
3

tbsp

cornstarch

3

tbsp

confectioners' sugar
For the Brunost caramel sauce:

1/2

cup

granulated sugar

2

tbsp

water

1/2

heavy cream

3 1/2

oz

SkiQueen®, sliced or grated
For the marshmallow mixture:

1 1/2

cup

granulated sugar

1/2

cup

water

1/4

cup

honey

1

tsp

vanilla extract

10

(3 x 4 ½-inch) gelatin sheets or ¾-ounce gelatin powder

2 1/2

cup

of water, divided
Here is how you do it
Oil a 9 x 13-inch baking pan. Line the pan with parchment paper and oil the parchment.
In a small bowl, combine the cornstarch and confectioners' sugar. Sprinkle some on the bottom of the prepared pan. Reserve the rest for later use.
In a small saucepan, bring the sugar and water for the Brunost caramel to a boil over medium-high heat. Add the heavy cream and Ski Queen® Classic and whisk together until melted, thoroughly combined and somewhat thickened, about 3 to 5 minutes. Set aside.
In a medium, heavy pot, combine the granulated sugar, water, and honey over medium heat to dissolve the sugar. Raise the heat and bring to a simmer. Continue cooking, without stirring, for about 12 minutes or until the mixture registers 240º F on a candy thermometer.
Soak the gelatin sheets in about 2 cups cold water for 5 minutes. Squeeze the water from the gelatin sheets, then add ½ cup of boiling water and stir to dissolve. If using gelatin powder, in a small bowl, sprinkle the gelatin over 1/2 cup of cold water to dissolve and soften.
Pour the gelatin into the bowl of a stand mixer fitted with the whisk attachment.
When the sugar mixture has reached 240º F, immediately add it to the gelatin in the stand mixer—it's very hot and will bubble up so take caution. Add the vanilla extract. Whisk on low for 1 minute then increase the speed to medium-high and whisk for up to 10 minutes or until the mixture is stiff but spreadable. Pour the Brunost caramel sauce on top of the marshmallow mixture and, with a spatula, gently swirl in a figure-eight motion being careful not to fully combine.
Scrape into the prepared pan, dust with some of the cornstarch mixture, and let stand, uncovered, in the refrigerator for 2 hours or until firm.
Finally, take the Brunost marshmallows out of the pan and cut into squares. To store, toss the marshmallows in the remaining cornstarch mixture to prevent sticking, and keep in the refrigerator for 1 week.
This recipe makes about 30 marshmallows.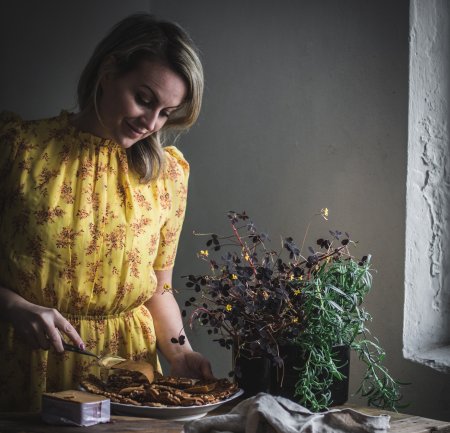 Meet our Brunost brand ambassador for 2020, Nevada Berg
---
We have teamed up with Nevada Berg of North Wild Kitchen. This means that each month throughout the year, Nevada will share a recipe featuring Brunost - everything from sweet to savory dishes.
Get to know Nevada