Brunost Turkey & Kale Pot Pies
The holiday season is upon us and for many, turkey takes a prominent feature on the table. As turkey is ideal for big gatherings due to the large amount of food it provides, you'll often end up with leftovers. That's when you should make individual pot pies with Brunost, kale and mushrooms. Pot pies are a wonderful, warming way to treat yourself and those around you. Each individual pot gets a generous helping of the turkey filling and a buttery crust on top. For added flavor, creamy Brunost is tossed into the sauce, melting and adding an incredible taste that makes these pies even more special. Recipe by Nevada Berg of northwildkitchen.com.
Ingredients
For the pastry:

2

cup

flour (split all-purpose and whole wheat, if desired)

2 sticks (224 g)

lightly salted butter

1/4

cup

ice cold water
For the filling:

4

tbsp

butter

3

large shallots, finely chopped

8

oz

mushrooms, chopped

1

tbsp

fresh thyme leaves

1/4

cup

all-purpose flour

2

cup

turkey or chicken stock

1

cup

heavy cream

3 1/2

oz

Ski Queen®, sliced or grated

1

tsp

salt

2

cup

leftover cooked turkey

1

cup

kale, chopped

1

egg, beaten
Here is how you do it
For the pastry, in a large bowl, combine the flour and butter and use a pastry cutter or fork to blend them together into pea size pieces. Add the ice water and gently combine to form a dough. Press the dough flat, wrap in plastic wrap or a towel, and refrigerate at least 30 minutes.
In a large pan, melt the butter over medium-high heat. Add the shallots, mushrooms, and thyme leaves and sauté until golden, about 5 to 8 minutes. Add in the flour and cook for 1 minute. Whisk in the stock, heavy cream, Ski Queen® brown cheese and salt, and cook until thickened, about 10 to 15 minutes. Stir in the turkey and kale and season to taste with salt and pepper. Divide the filling among 4 to 6 ramekins.
Preheat the oven to 350°F.
On a lightly floured surface, roll out the dough into a long rectangle about ¼-inch thick. Fold the top 1/3 of the rectangle down to the center, then fold the bottom 1/3 up and over that, like you would fold a letter. Rotate the dough a quarter turn and roll out into another long rectangle. Fold like a letter as before and repeat two more times. Roll out the dough once more to ¼-inch thick and let it rest for 5 minutes. Cut out squares large enough to fit the top of your ramekins with a slight overhang. Place over each ramekin, brush with the beaten egg, and make slits in the middle of the pastry with a sharp knife.
Place the pies on a baking sheet and bake for 30 to 40 minutes or until golden brown and bubbling. Let cool slightly before serving.
Tips from Nevada: You can make the pastry in advance, storing it in the refrigerator for 48 hours or freezing up to 6 months. I like to use a mixture of whole wheat flour and white flour for heartiness, but feel free to use what you like. And, you can always make one large pie rather than individual ones if that's what you're feeling that day.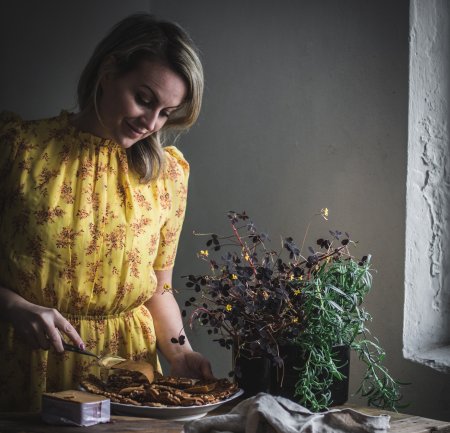 Meet our Brunost brand ambassador for 2020, Nevada Berg
---
We have teamed up with Nevada Berg of North Wild Kitchen. This means that each month throughout the year, Nevada will share a recipe featuring Brunost - everything from sweet to savory dishes.
Get to know Nevada