Norwegian Meatballs with Brunost
Meatballs served with potatoes and brown gravy is a traditional dinner loved by Norwegians. Brunost is known for adding a creamy, caramel-like flavor to sauces and gravy, but have you ever tried adding Brunost to the meatballs? The result is savory and juicy meatballs who flavour the brown gravy, giving you the best of both worlds. Recipe by our brand ambassador for 2020, Nevada Berg of northwildkitchen.com.
Ingredients
For the meatballs:

1 1/4

lb

minced/ground beef

1

tsp

salt

1

tsp

nutmeg

1/2

tsp

ground black pepper

1/2

small onion, finely chopped

1

egg

1/2

cup

milk

3 1/2

oz

grated SkiQueen®

2

tbsp

potato starch

1

tbsp

oil, for cooking
For the brown sauce:

4

tbsp

butter

4

tbsp

all-purpose flour

2

cup

beef stock

1/4

tsp

salt
Here is how you do it
In a large bowl, combine all the ingredients for the meatballs, except the oil, with your hands to ensure everything is blended together. Form about 20 meatballs.
In a large, heavy skillet or sauté pan, heat the oil over medium-high heat. Add the meatballs and cook, turning, for 5 minutes or until brown on all sides.
For the brown sauce, in a large, heavy saucepan, melt the butter over medium heat. Whisk in the flour and cook, whisking frequently, for 6 to 8 minutes or until dark brown – be careful not to burn the flour. Slowly add the beef stock, whisking to combine, and salt. Pour the sauce over the meatballs (I keep all the juices released from the meatballs as they brown) and bring to a boil. Lower the heat and gently simmer for 15 minutes or until the meatballs are cooked through. Season to taste with salt and pepper.
Serve warm with boiled potatoes, a dab of lingonberry jam, if you have some, and vegetables of your choice.
If you wish to reheat the meatballs, just add a little more water or stock to thin out the gravy as it tends to thicken.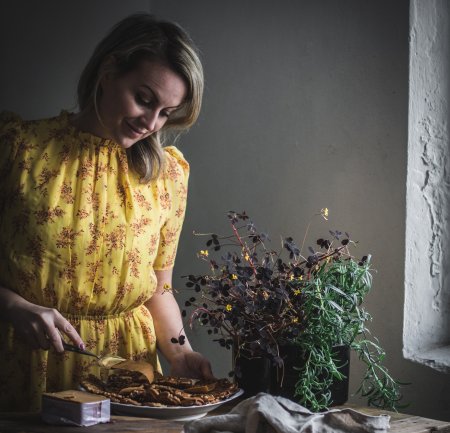 Meet our Brunost brand ambassador for 2020, Nevada Berg
---
We have teamed up with Nevada Berg of North Wild Kitchen. This means that each month throughout the year, Nevada will share a recipe featuring Brunost - everything from sweet to savory dishes.
Get to know Nevada