Brunost, Honey & Rye Quick Bread
This quick and easy bread that combines Brunost with honey and rye has a soft texture and a caramelly and malty taste. Combine that with the saltiness of soft butter and sweetness of thin slices of Brunost, and you'll have the perfect comfort food while waiting for warmer and better days! Recipe by Nevada Berg of @northwildkitchen. ​
Here is how you do it
Preheat the oven to 350°F. Lightly grease a medium-sized (9-inch) loaf tin.
In a large bowl, combine the all-purpose flour, rye flour, baking powder, and salt. Gently fold in the grated Ski Queen® Classic.
In a medium bowl, whisk together the honey, melted butter, buttermilk and eggs. Pour into the dry ingredients and mix until just combined being careful not to overmix. Pour the batter into the prepared loaf tin and bake for 35 to 40 minutes or until a toothpick inserted in the center of the bread comes out clean. Let the bread cool in the tin 10 minutes before turning out and serving.
This bread is best served warm on its own or with a good dollop of lightly salted butter.
Reheat any leftovers in the oven on low heat for a couple of minutes before serving. Consume within 2 to 3 days.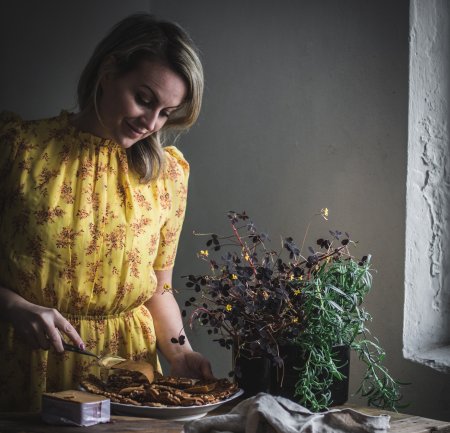 Meet our Brunost brand ambassador, Nevada Berg
---
We have teamed up with Nevada Berg of North Wild Kitchen for 2020 and 2021, which means that Nevada will share lots of delicious recipe featuring Brunost with us - everything from sweet to savory dishes.
Get to know Nevada