Creamy Wild Mushroom and Brunost Soup
As the days are getting cooler, a warming dish is the most comforting. For the month of September, Nevada presents a delicious, velvety and smooth wild mushroom and Brunost soup. Most wild stews in Norway include a handful or so of wild mushrooms and it's common to toss in a few slices of Brunost to add more richness and depth to the overall flavor. Adding Brunost to this soup elevates the dish in a way that will draw you straight to the mountains of Norway. Grab the recipe and make yourself a bowl! Recipe by Nevada Berg from northwildkitchen.com.
Here is how you do it
In a large, heavy pot, heat the butter over medium-high heat. Toss in the diced shallots and thyme and cook for 2 minutes or until the shallots are soft and translucent. Add the chanterelles and sauté for 6 to 8 minutes or until the mushrooms start to brown and caramelize. Pour in the stock and simmer, uncovered, for 10 minutes or until slightly reduced. Add Ski Queen® Classic and heavy cream, stir until combined, and cook 5 minutes longer until heated through. Season to taste with salt and pepper, garnish with fresh thyme, and serve.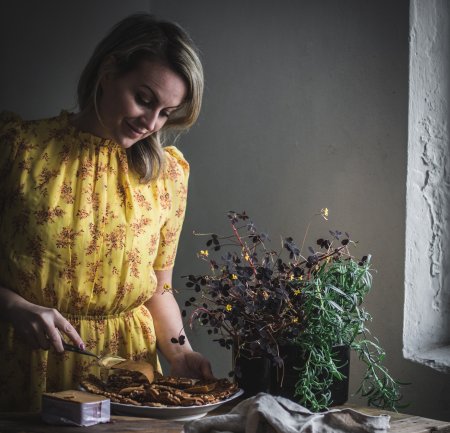 Meet our Brunost brand ambassador for 2020, Nevada Berg
---
We have teamed up with Nevada Berg of North Wild Kitchen. This means that each month throughout the year, Nevada will share a recipe featuring Brunost - everything from sweet to savory dishes.
Get to know Nevada